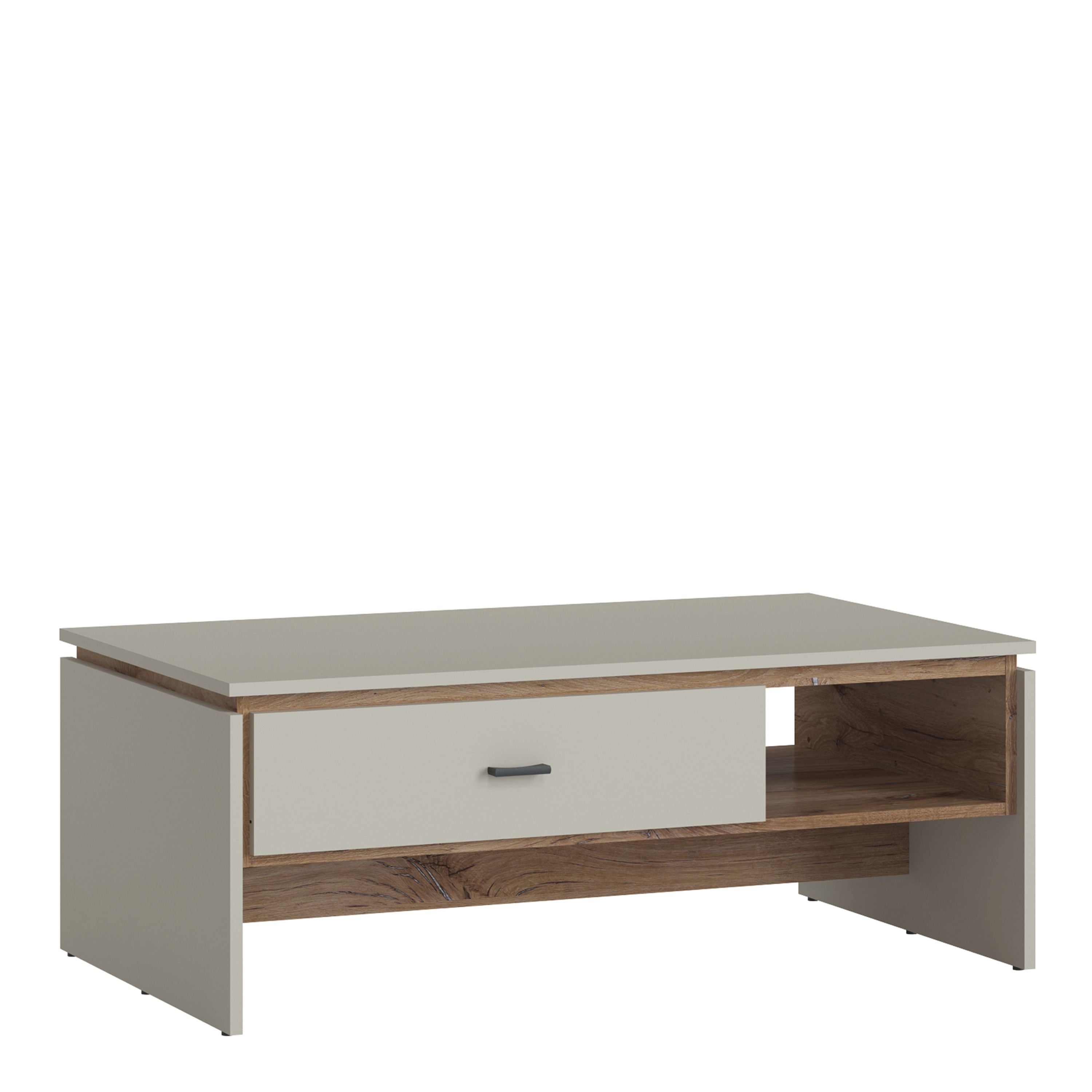 Rivero 1 Drawer Coffee Table in Grey & Oak
Sit comfortably in your favourite armchair and rest after a hard day. Will you drink hot tea, fresh fruit juice or coffee to give you energy? Put the cup or glass on a handy, stylish coffee table with a drawer. Reach for the remote control or your favourite book.
The Rivero coffee table is equipped with a practical drawer with a silent closing mechanism. Its design and functionality allow you to create an industrial, modern and vintage decor. The coffee table is made in a unique combination of a shade of wood (Dark Flagstaff Oak) with a shade of grey (Silicon Grey). The whole is complemented by a metal, minimalist drawer handle. The coffee table has a practical, open shelf, which additionally strengthens its functionality and stylish appearance.
Size in mm: W 1100 x H 425 x D 640 mm
Laminated board (resistant to moisture and damage)
Minimalist black metal handle
Silent Close
Durability and resistance to minor damage
Industrial and vintage style
Matching pieces available
Assembled Weight (kg): 37.42
Number of boxes: 2
Shipping volume (m3): 0.10919
EAN Code: 5900355153787
SKU: 4465480FTG
Box 1:
EAN: 6010000023363
Dimensions (CM): 45 L x 100.3 W x 11 H cm
Weight (kg): 17.1
Volume (m3): 0.049649

Box 2:
EAN: 6010000023364
Dimensions (CM): 67.4 L x 126.2 W x 7 H cm
Weight (kg): 20.32
Volume (m3): 0.059541
---
Eligible for 14 Days Return
We Offer Complimentary 3-5 Days Delivery On All Products
Rivero 1 Drawer Coffee Table in Grey & Oak