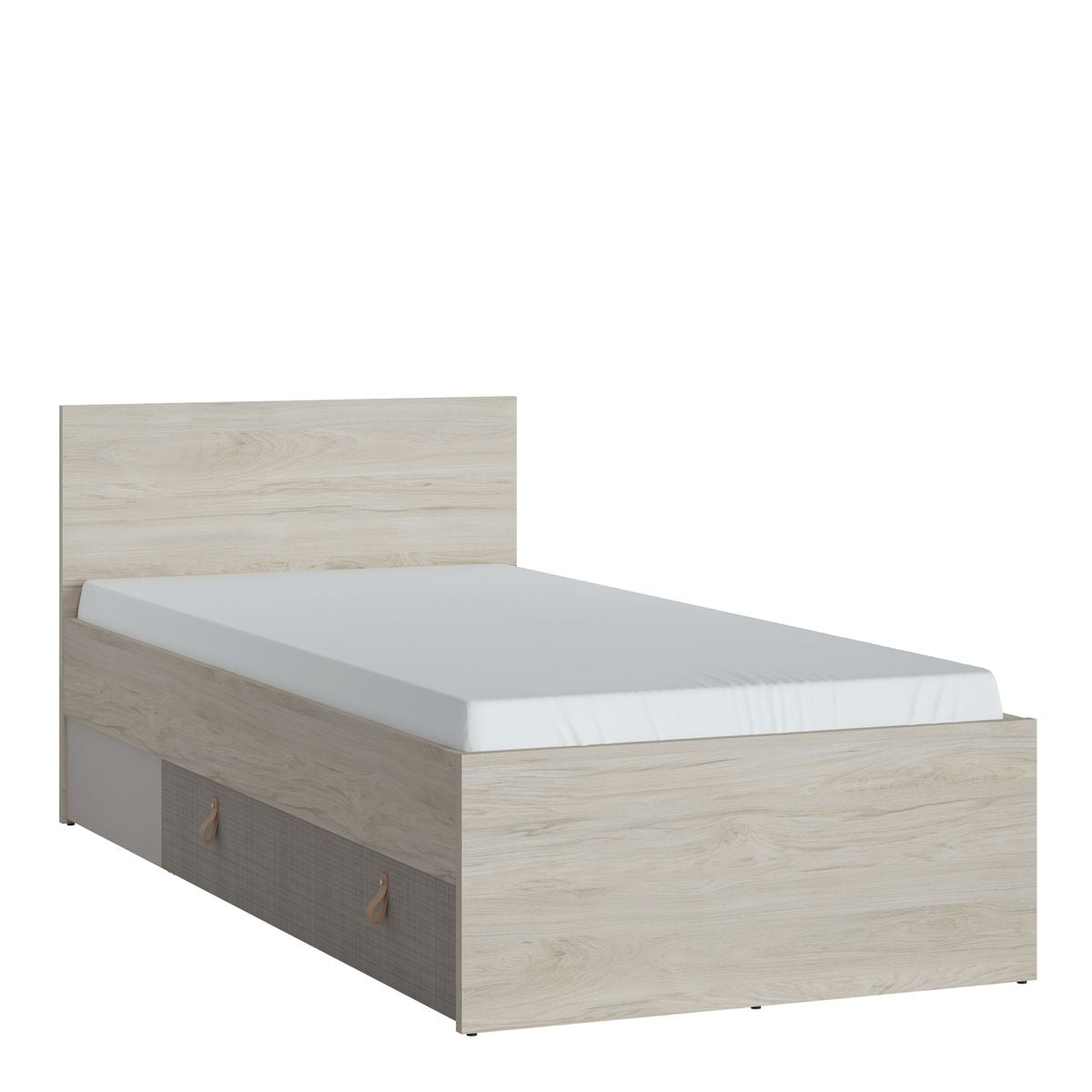 Denim 90cm Bed with 1 Drawer in Light Walnut, Grey Fabric Effect & Cashmere
A room for children and teenagers is an interior with various functionalities. Thanks to the use of stylish, modern furniture, it gains a unique character of the arrangement and the comfort needed for relaxation, fun and learning. Effective youth furniture creates a unique decor, perfectly matching the practicality and large storage area.
A single bed from the Denim collection is distinguished by modern simplicity. A comfortable bed allows convenient access to the storage area. A stylish, modern single bed is made of high-quality laminated chipboard in the shade of Rockford Walnut Light. Additions in the form of Cashmere and Caroline colours and the chequered pattern structure increase the effectiveness of modern furniture design.
The drawer is equipped with a stylish leather handle. The bed is sold without a slat-frame and mattress. The Denim bed is suitable for use in rooms decorated in a modern style. You can buy an optional headboard extension with practical shelves and LED lighting. An option worth considering is also the use of a hanging textile headboard, optionally available in one of the fashionable shades of grey.
Size in mm: W 953 x H 811 x D 2049 mm
Laminated board (resistant to moisture and damage)
Leather handles
Easy Self Assembly
Modern Details And Timeless Simplicity
Optional textile headboard and lighting (sold separately)
Matching pieces available
Assembled Weight (kg): 67.52
Number of boxes: 3
Shipping volume (m3): 0.162005
EAN Code: 5900355153893
SKU: 4476859FTG
Box 1:
EAN: 6010000023305
Dimensions (CM): 24.2 L x 242.7 W x 9.8 H cm
Weight (kg): 23.3
Volume (m3): 0.057559

Box 2:
EAN: 6010000023306
Dimensions (CM): 84 L x 111.5 W x 5.4 H cm
Weight (kg): 20.78
Volume (m3): 0.050576

Box 3:
EAN: 6010000023307
Dimensions (CM): 81.8 L x 156.8 W x 4.2 H cm
Weight (kg): 23.44
Volume (m3): 0.05387
Box 4:
EAN: 5706887907702
Dimensions (CM): 90.3 L x 26 W x 6.7 H cm
Weight (kg): 5
Volume (m3): 0.157
---
Eligible for 14 Days Return
We Offer Complimentary 3-5 Days Delivery On All Products
Denim 90cm Bed with 1 Drawer in Light Walnut, Grey Fabric Effect & Cashmere