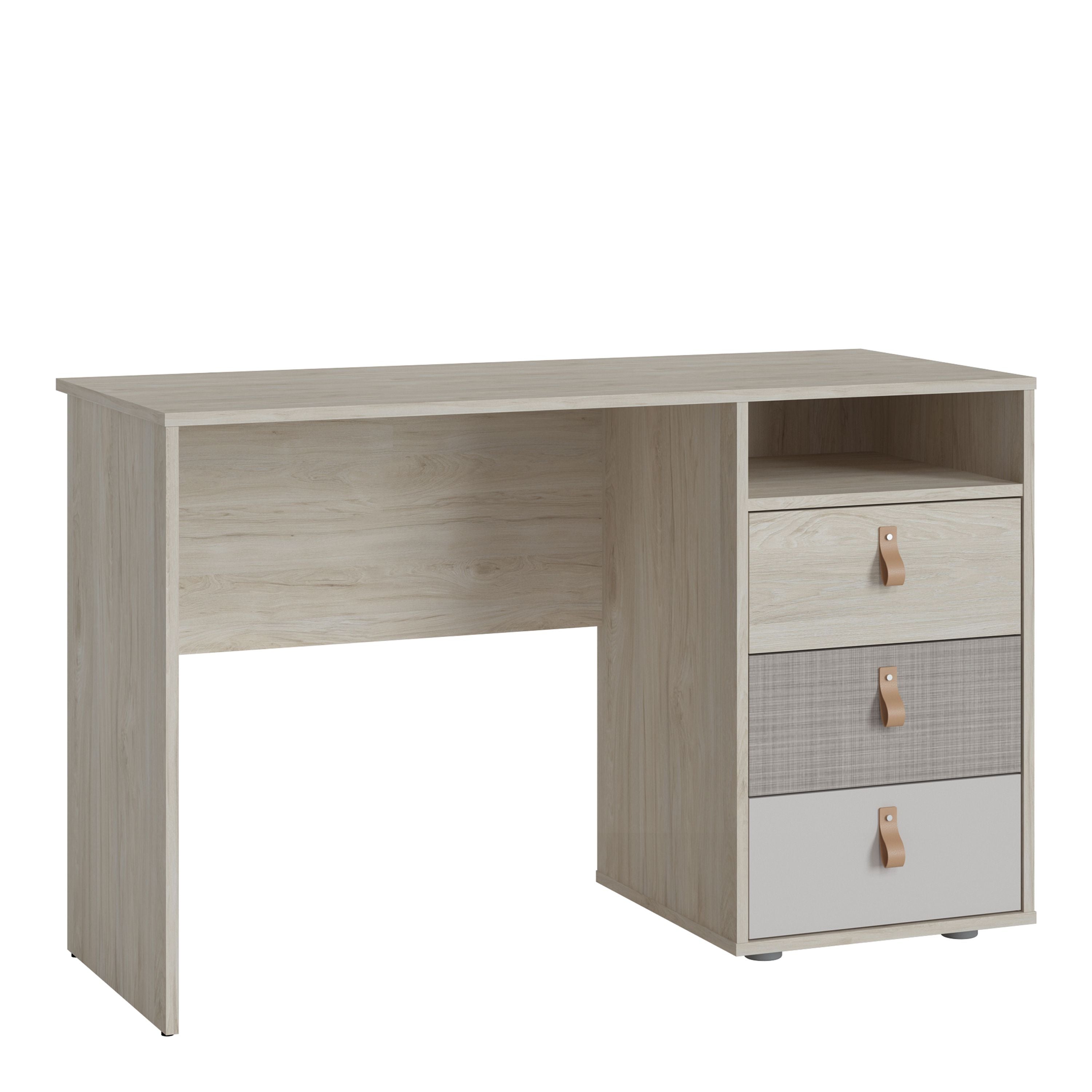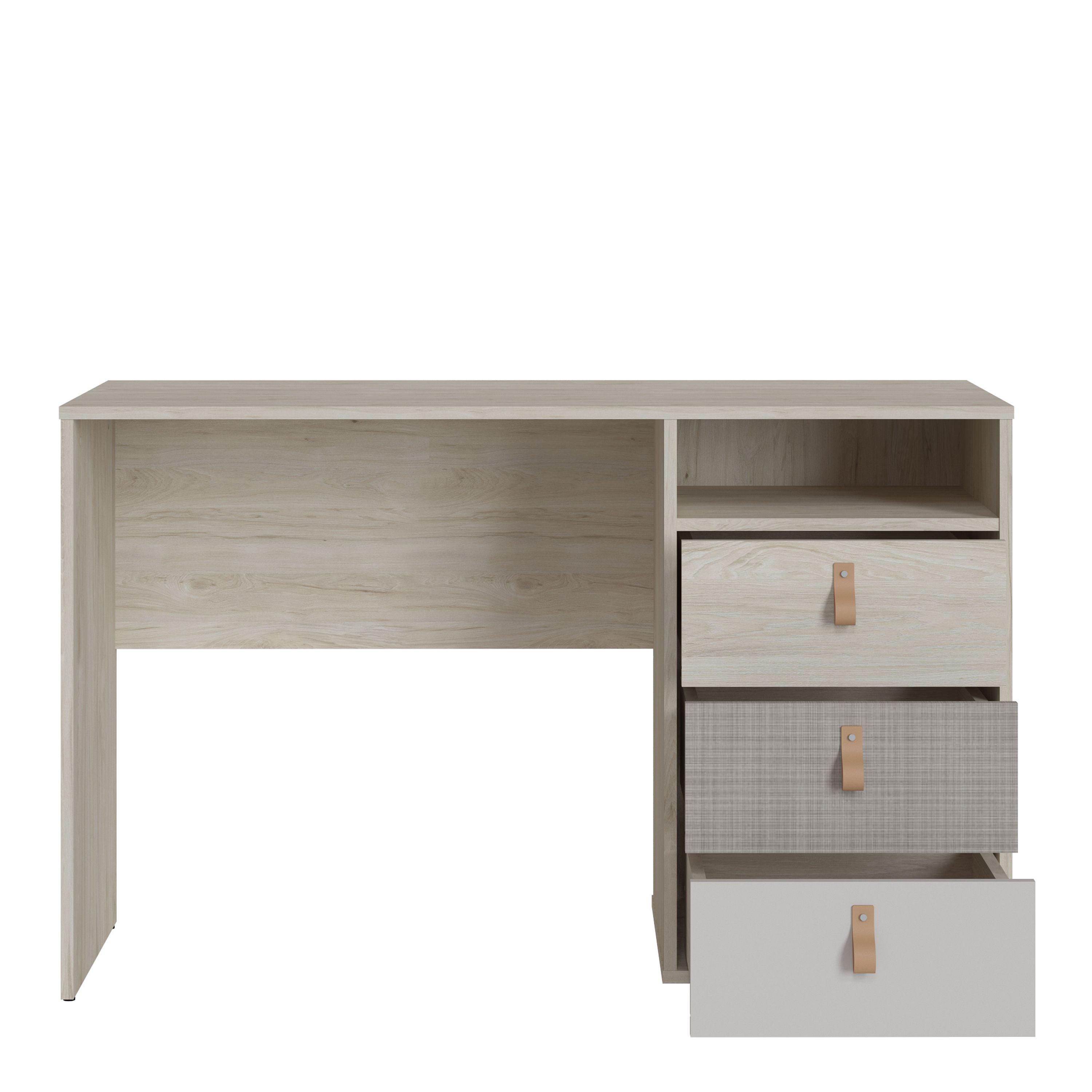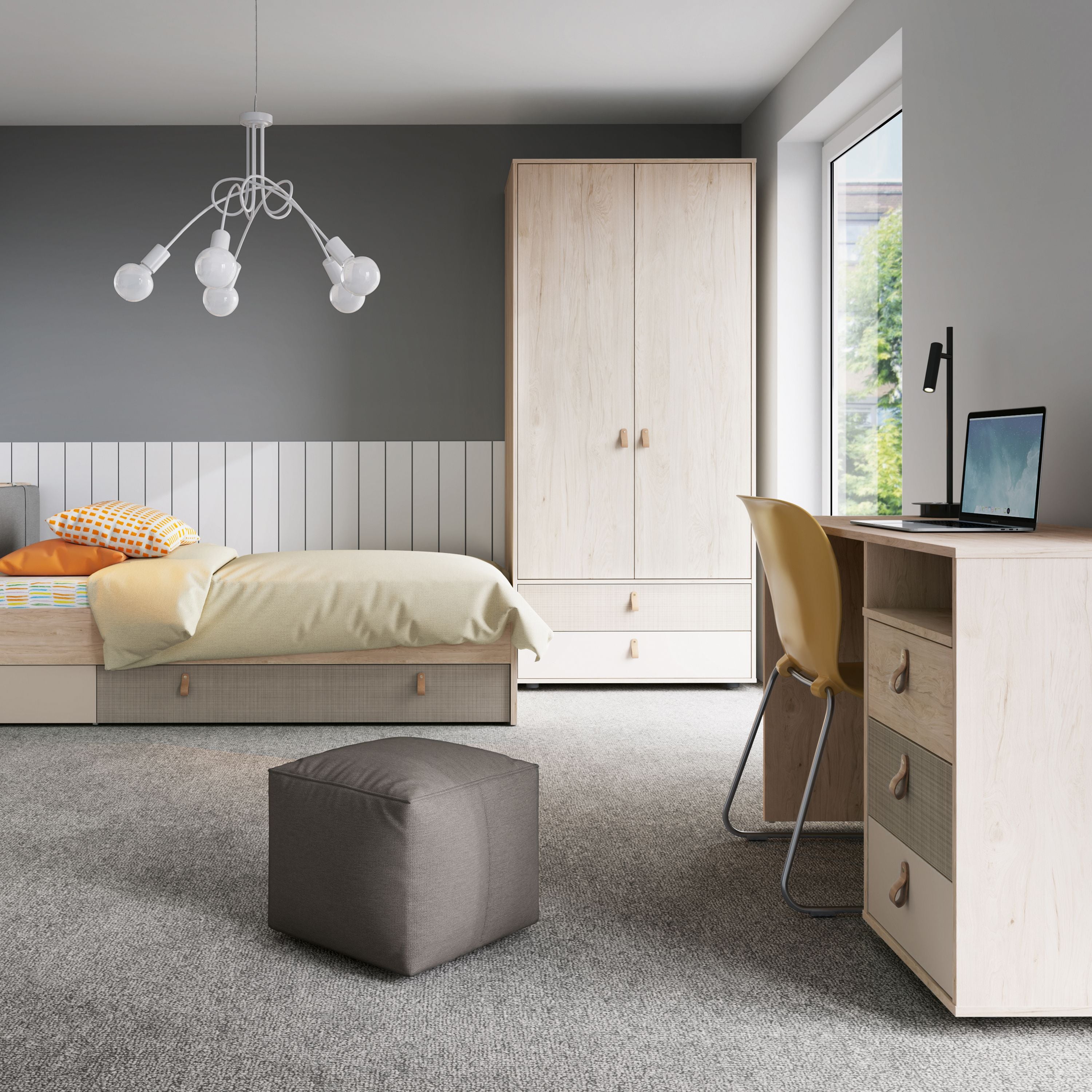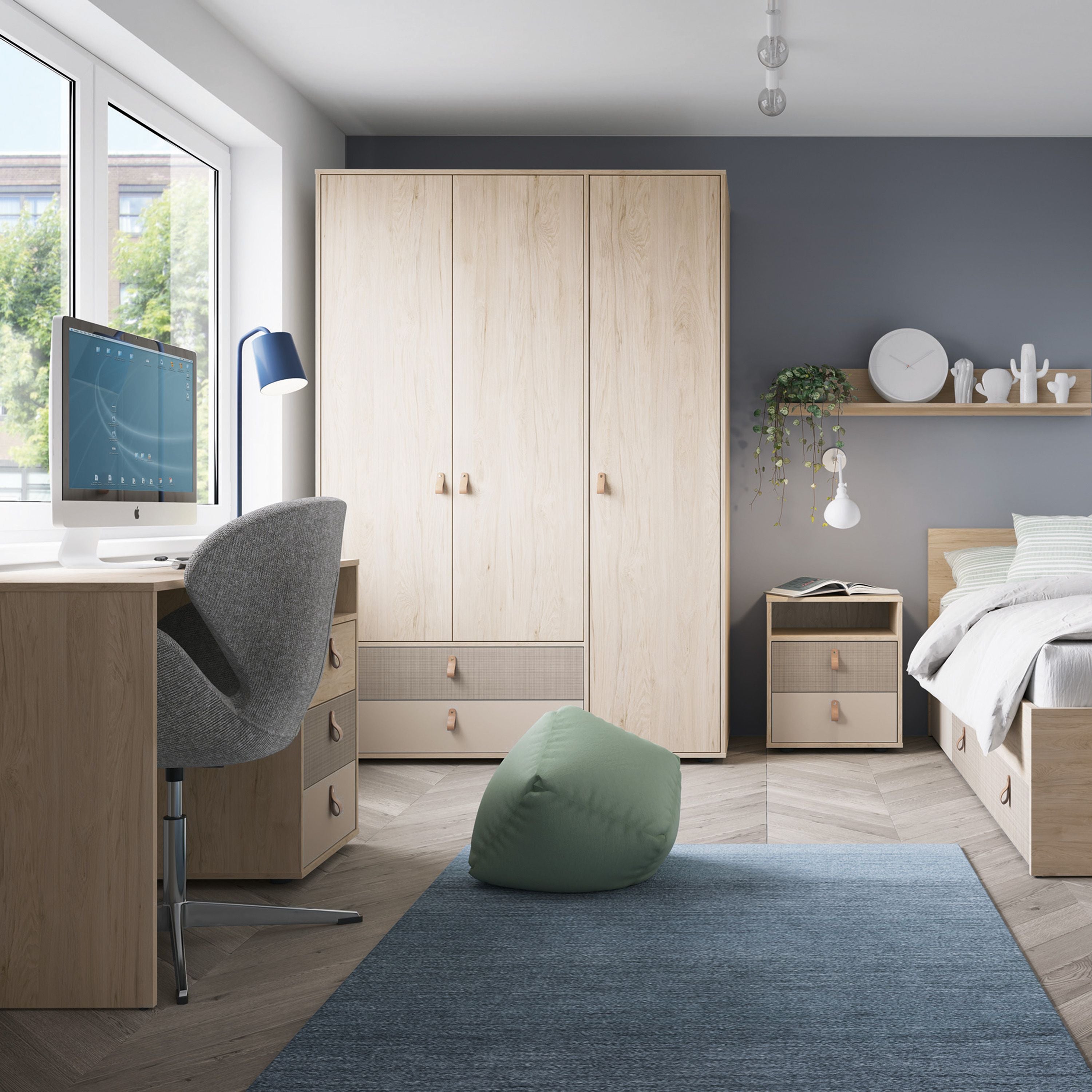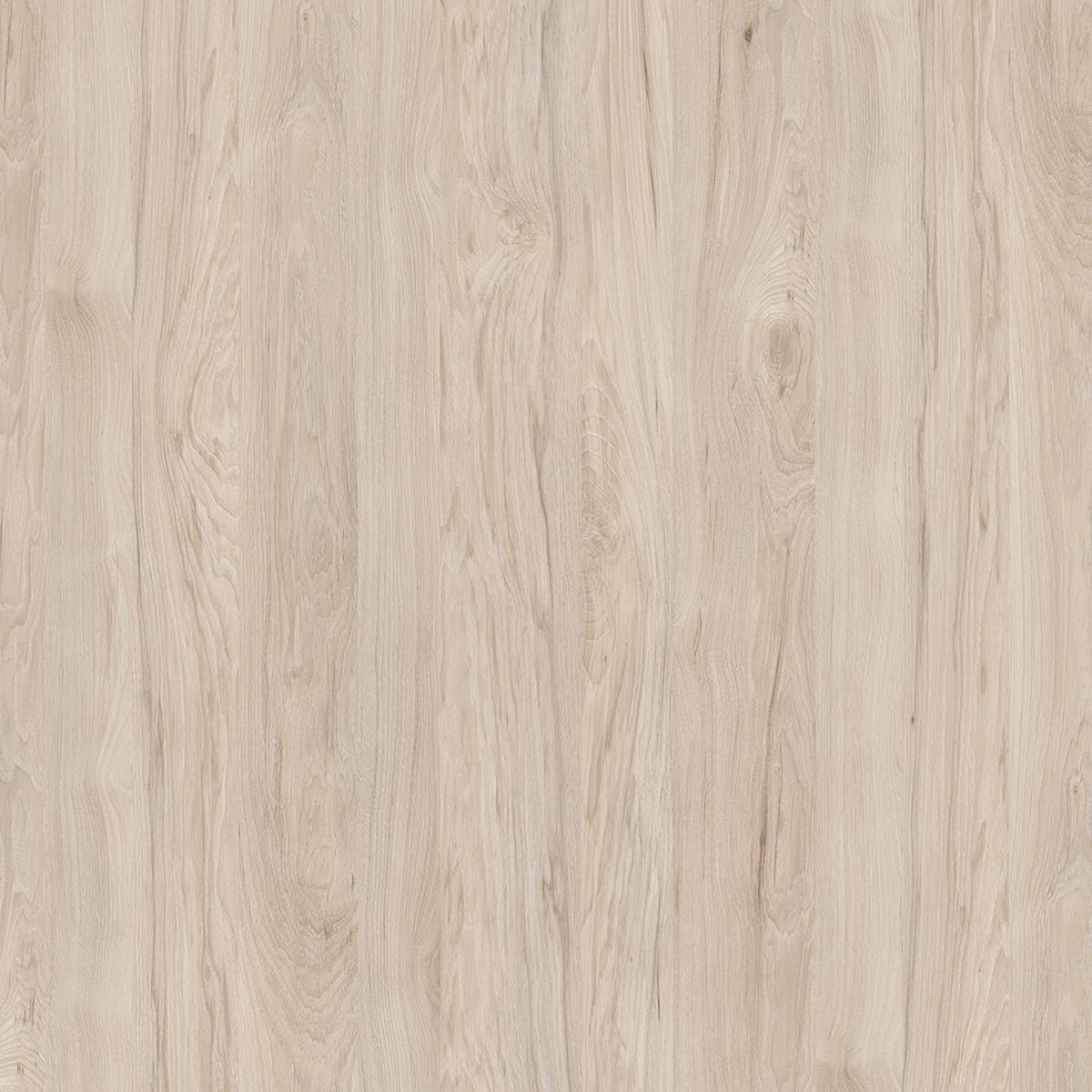 Denim 3 Drawer Desk in Light Walnut, Grey Fabric Effect & Cashmere
The most beautiful interiors are made of simple, perfectly matched elements. Modern, uncomplicated shapes, high-quality materials and details that give the furniture a unique effect are the features of the Denim furniture collection, dedicated to children's and teenagers' rooms. If you are looking for a functional desk in a neutral colour scheme with unique details, this piece of furniture will meet your expectations.
The Denim desk with three drawers is made of damage-resistant laminated chipboard. Its body and part of the fronts are made in the shade of Rockford Walnut Light. The other drawer fronts in the shades of Cashmere and Caroline provide a subtle emphasis on the simplicity of the collection, matching the Scandinavian, modern and minimalist décor.
The furniture is equipped with a ball mechanism, ensuring the functionality of full extension of drawers. The unusual effect is enhanced by leather handles in a shade of classic brown. Such an expressive and at the same time unobtrusive detail gives the desk a stylish, timeless look. It works perfectly in combination with pastel colours of walls and accessories. Functionality is added by an additional shelf, placed in the space between the desk top and the drawers. The back has been reinforced with an additional plate. The furniture is delivered in packages for self-assembly.
Size in mm: W 1200 x H 750 x D 600 mm
Laminated board (resistant to moisture and damage)
Leather handles
Modern Details And Timeless Simplicity
Easy Self Assembly
Three Drawers With An Open Shelf
Matching pieces available
Assembled Weight (kg): 43.7
Number of boxes: 2
Shipping volume (m3): 0.136447
EAN Code: 5900355154005
SKU: 4477959FTG
Box 1:
EAN: 6010000023299
Dimensions (CM): 85.2 L x 85.5 W x 11.5 H cm
Weight (kg): 21.42
Volume (m3): 0.083773
Box 2:
EAN: 6010000023300
Dimensions (CM): 63.4 L x 136.2 W x 6.1 H cm
Weight (kg): 22.28
Volume (m3): 0.052674

---
Eligible for 14 Days Return
We Offer Complimentary 3-5 Days Delivery On All Products
Denim 3 Drawer Desk in Light Walnut, Grey Fabric Effect & Cashmere