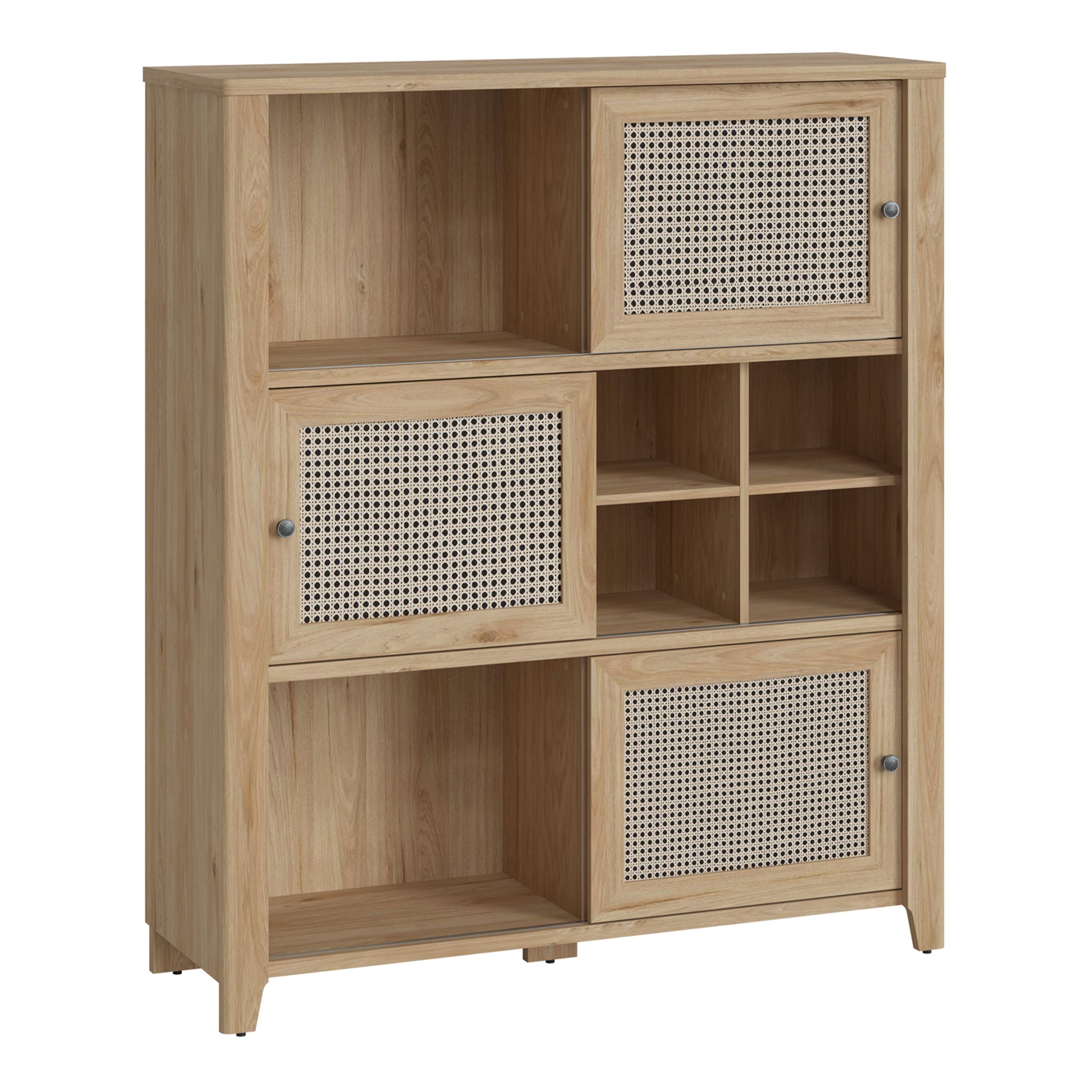 Cestino 3 Door Cabinet in Jackson Hickory Oak & Rattan Effect
The functionality of the room arrangement can complement the eye-catching look that is created using high-quality, modern furnishings. The latest collection of Cestino furniture is what combines simplicity, modernity and practicality of use. Spend a lazy afternoon knowing that all your favourite items have found their place in a spacious, fashionable high-board.
A large high-board from the Cestino series is a piece of furniture that provides extraordinary functionality and durability in the face of destructive factors. Made of MDF board and laminated furniture board, it contains high-quality metal handles and storage space with different capacities. Wide and narrow open shelves fit perfectly with full sliding fronts, you can decide for yourself which space is to be visible.
The colour of the furniture, Jackson Hickory, perfectly complements the timeless style of the cabinet. The Cestino collection reflects classic inspirations that fit perfectly into any cozy room. Its natural shade of wood, Jackson Hickory, is beautifully combined with an arrangement in a fashionable Scandinavian and boho style.
Size in mm: W 1286 x H 1500 x D 420 mm
Laminated board (resistant to moisture and damage)
Rattan Effect Panels
Natural Colours
Easy Self Assembly
Matching pieces available
Assembled Weight (kg): 69.8
Number of boxes: 3
Shipping volume (m3): 0.180371
EAN Code: 5900355146253
SKU: 4457375FTG
Box 1:

EAN: 6010000022749
Dimensions (CM): 40.9 L x 153.3 W x 9.2 H cm
Weight (kg): 24
Volume (m3): 0.057684

Box 2:
EAN: 6010000022750
Dimensions (CM): 49.7 L x 144.8 W x 6.9 H cm
Weight (kg): 20.74
Volume (m3): 0.049656

Box 3:
EAN: 6010000022751
Dimensions (CM): 46.7 L x 162.9 W x 9.6 H cm
Weight (kg): 25.06
Volume (m3): 0.073031
---
Eligible for 14 Days Return
We Offer Complimentary 3-5 Days Delivery On All Products
Cestino 3 Door Cabinet in Jackson Hickory Oak & Rattan Effect