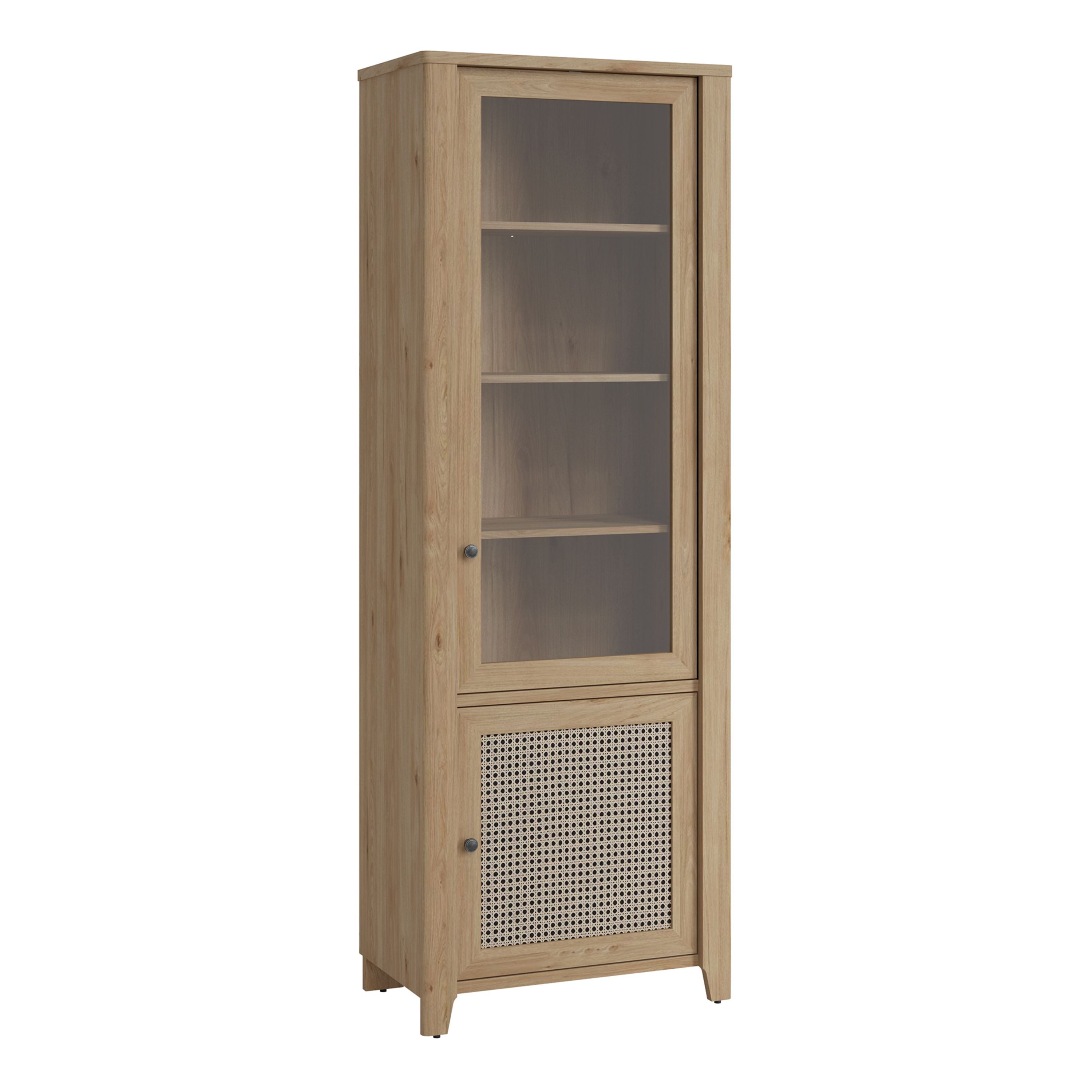 Cestino 2 Door Display Cabinet in Jackson Hickory Oak & Rattan Effect
Practical, stylish furniture can give a room an unusual, unique character, while ensuring that users are provided with maximum functionality in everyday use. Do you want to have everything you need for an elegant table decoration at hand during a family dinner? Place the cutlery and glasses in a practical display cabinet that will perfectly complement the interior of the room. 
Perfect for the dining room and the living room, the high single display unit is a piece of furniture that creates a unique arrangement style and emphasises the stylistic refinement of the room. Made of high-quality MDF and laminated chipboard, the high display cabinet has spacious shelves, practically covered with tempered glass. The entire piece of furniture is presented in the shade of natural wood: Jackson Hickory, while the solid front at the bottom of the display is Rattan effect.
The body is universal, which means that you can mount the door on the left or right side. The impressive, high two-door display unit is perfect for small rooms, especially in living rooms open to the kitchen, where the dining room is the connecting element. The display cabinet from our Cestino furniture collection fits perfectly into the boho style, emphasising the naturalness of the choice of colours of the equipment. Combine it with the rest of the collection.
Size in mm: W 732 x H 2063 x D 420 mm
Laminated board (resistant to moisture and damage)
Stylish Elegant Design
Rattan Effect Panel
Natural Colours
Easy Self Assembly
Matching pieces available
Assembled Weight (kg): 67
Number of boxes: 3
Shipping volume (m3): 0.1956
EAN Code: 5900355146192
SKU: 4457975FTG
Box 1:
EAN: 6010000022796
Dimensions (CM): 63.2 L x 98.8 W x 10.4 H cm
Weight (kg): 19.72
Volume (m3): 0.064939

Box 2:
EAN: 6010000022797
Dimensions (CM): 74 L x 155.4 W x 6.1 H cm
Weight (kg): 23.88
Volume (m3): 0.070148

Box 3:
EAN: 6010000022798
Dimensions (CM): 42.9 L x 220.4 W x 6.4 H cm
Weight (kg): 23.4
Volume (m3): 0.060513
---
Eligible for 14 Days Return
We Offer Complimentary 3-5 Days Delivery On All Products
Cestino 2 Door Display Cabinet in Jackson Hickory Oak & Rattan Effect