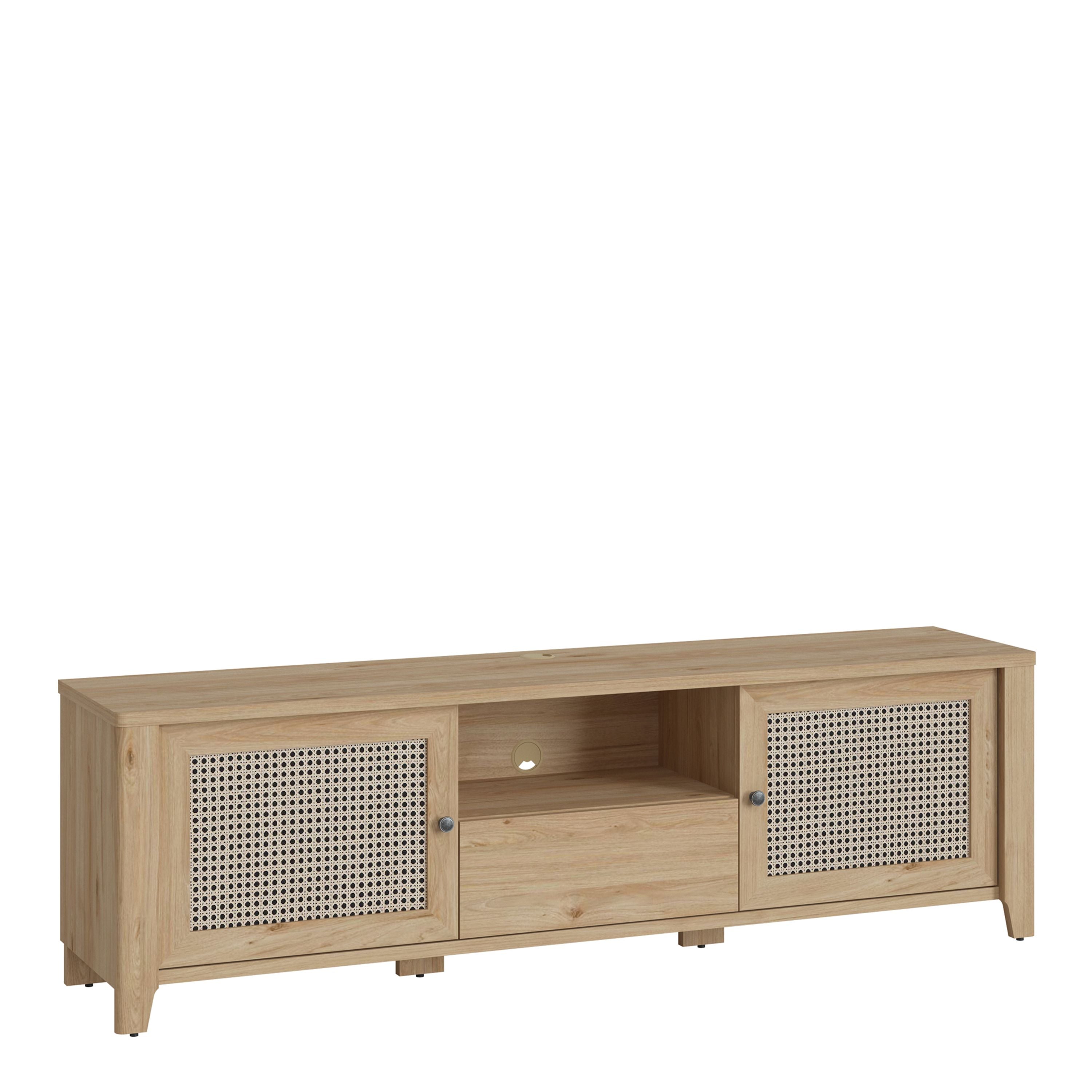 Cestino 2 Door 1 Drawer TV Unit in Jackson Hickory Oak & Rattan Effect
Special moments are created by the atmosphere created by people who want to be together. Watching movies or TV programs with the family or with friends is a time of rest, which is also a moment of everyday relaxation, deserving to be called exceptional.
The TV cabinet from the new Cestino collection will allow you to store all TV accessories in one place. Stylish, elegant furniture for the living room create its atmosphere. While the atmosphere is created by people and their moods, the comfort of using the rooms and their visual effect depends on carefully selected equipment.
The TV cabinet in Jackson Hickory and Rattan effect is a piece of furniture made of laminated chipboard and MDF board for reliability and everyday functionality. The spacious open shelves and hidden behind full fronts will accommodate all the items that previously had to be put on a table or bookcase.
The cabinet also has a practical drawer. We offer a high-quality TV unit for self-assembly. The furniture has a wiring hole at the rear. The timeless, elegant TV cabinet from the Cestino series perfectly complements a wall shelf from the same collection, a coffee table and a display cabinet. You can match it to the living room or open day zone, in the style of classic elegance, boho or Scandinavian.
Size in mm: W 1878 x H 572 x D 420 mm
Laminated board (resistant to moisture and damage)
Stylish Elegant Design
Rattan Effect Panels
Natural Colours
Easy Self Assembly
Matching pieces available
Assembled Weight (kg): 51.74
Number of boxes: 2
Shipping volume (m3): 0.134426
EAN Code: 5900355146277
SKU: 4457175
Box 1:
EAN: 6010000022746
Dimensions (CM): 48.7 L x 88.6 W x 18.2 H cm
Weight (kg): 26.08
Volume (m3): 0.07853

Box 2:
EAN: 6010000022752
Dimensions (CM): 45.4 L x 205.2 W x 6 H cm
Weight (kg): 25.66
Volume (m3): 0.055896
---
Eligible for 14 Days Return
We Offer Complimentary 3-5 Days Delivery On All Products
Cestino 2 Door 1 Drawer TV Unit in Jackson Hickory Oak & Rattan Effect