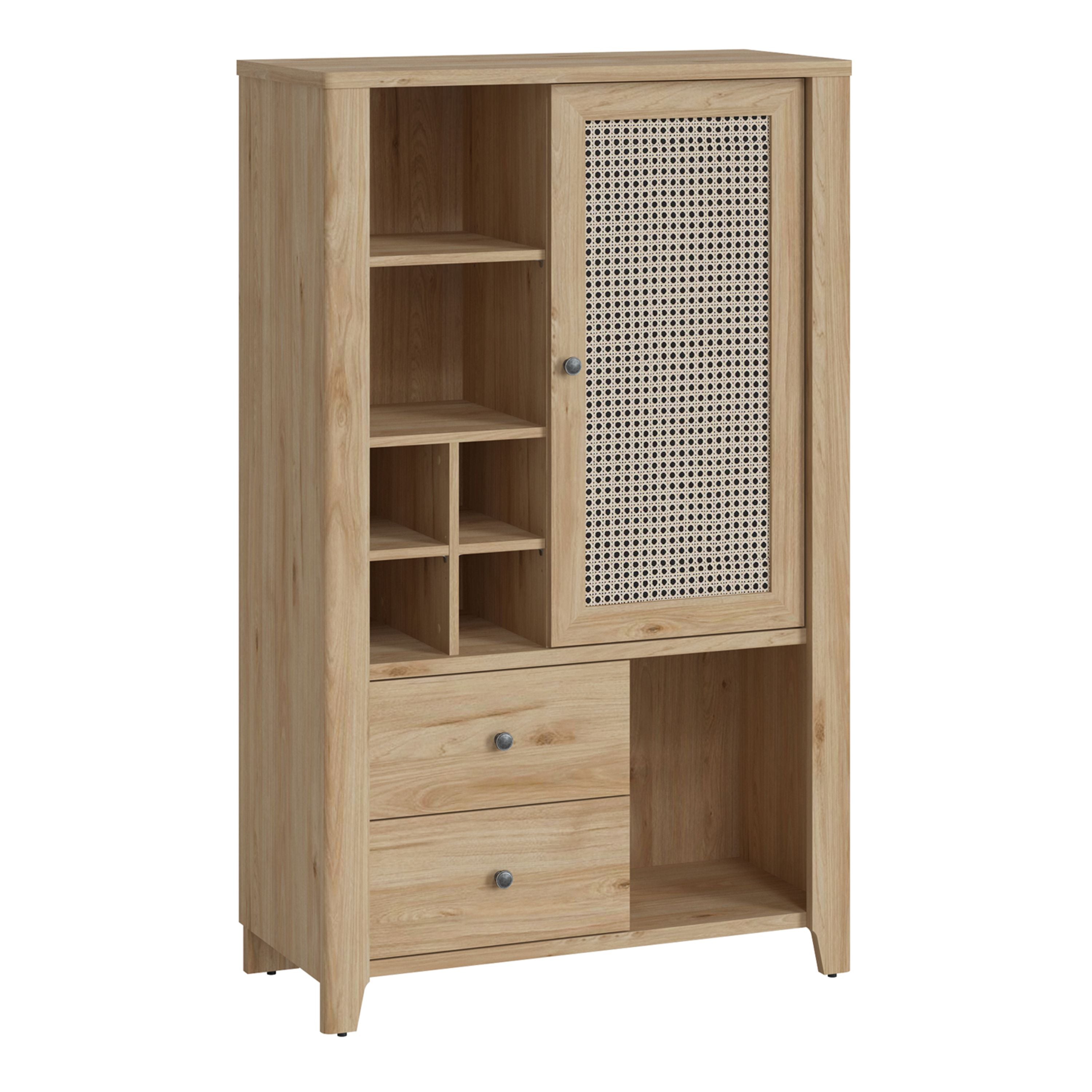 Cestino 1 Door 2 Drawer Cabinet in Jackson Hickory Oak & Rattan Effect
Photos of your loved ones, placed in tasteful frames, decorative candles, books and the best red wine should be in the living area of your house or apartment. Placed in a stylish chest of drawers, distinguished by practical details, you can display it on open shelves or hide it from the view of outsiders in a drawer or on a shelf hidden behind a full front.
The high-board, made of laminated board and MDF board, is in the fashionable shade of Jackson Hickory with an element of an interesting pattern - Rattan effect. The quality of workmanship and the use of modern mechanisms (ball, full extension for drawers, soft closing for hinges) make the presented high-board a reliable piece of equipment in any living room, dining room, home office or youth room. The roomy, practical high-boards from the Cestino collection is perfect, above all, thanks to its shelves with various capacities, practical drawers and colours that guarantee a timelessly perfect look of the furniture. Choose a high-board with stunning functionality and combine it with decorations in a classic and boho style.
Size in mm: W 925 x H 1500 x D 420 mm
Laminated board (resistant to moisture and damage)
Rattan Effect Panels
Natural Colours
Easy Self Assembly
Matching pieces available
Assembled Weight (kg): 67.56
Number of boxes: 3
Shipping volume (m3): 0.170158
EAN Code: 5900355146260
SKU: 4457275
Box 1:
EAN: 6010000022743
Dimensions (CM): 40.9 L x 65.2 W x 19.2 H cm
Weight (kg): 20.34
Volume (m3): 0.0512

Box 2:
EAN: 6010000022744
Dimensions (CM): 54.5 L x 108.1 W x 12.6 H cm
Weight (kg): 27.42
Volume (m3): 0.074232

Box 3:
EAN: 6010000022745
Dimensions (CM): 42.9 L x 162.9 W x 6.4 H cm
Weight (kg): 19.8
Volume (m3): 0.044726
---
Eligible for 14 Days Return
We Offer Complimentary 3-5 Days Delivery On All Products
Cestino 1 Door 2 Drawer Cabinet in Jackson Hickory Oak & Rattan Effect