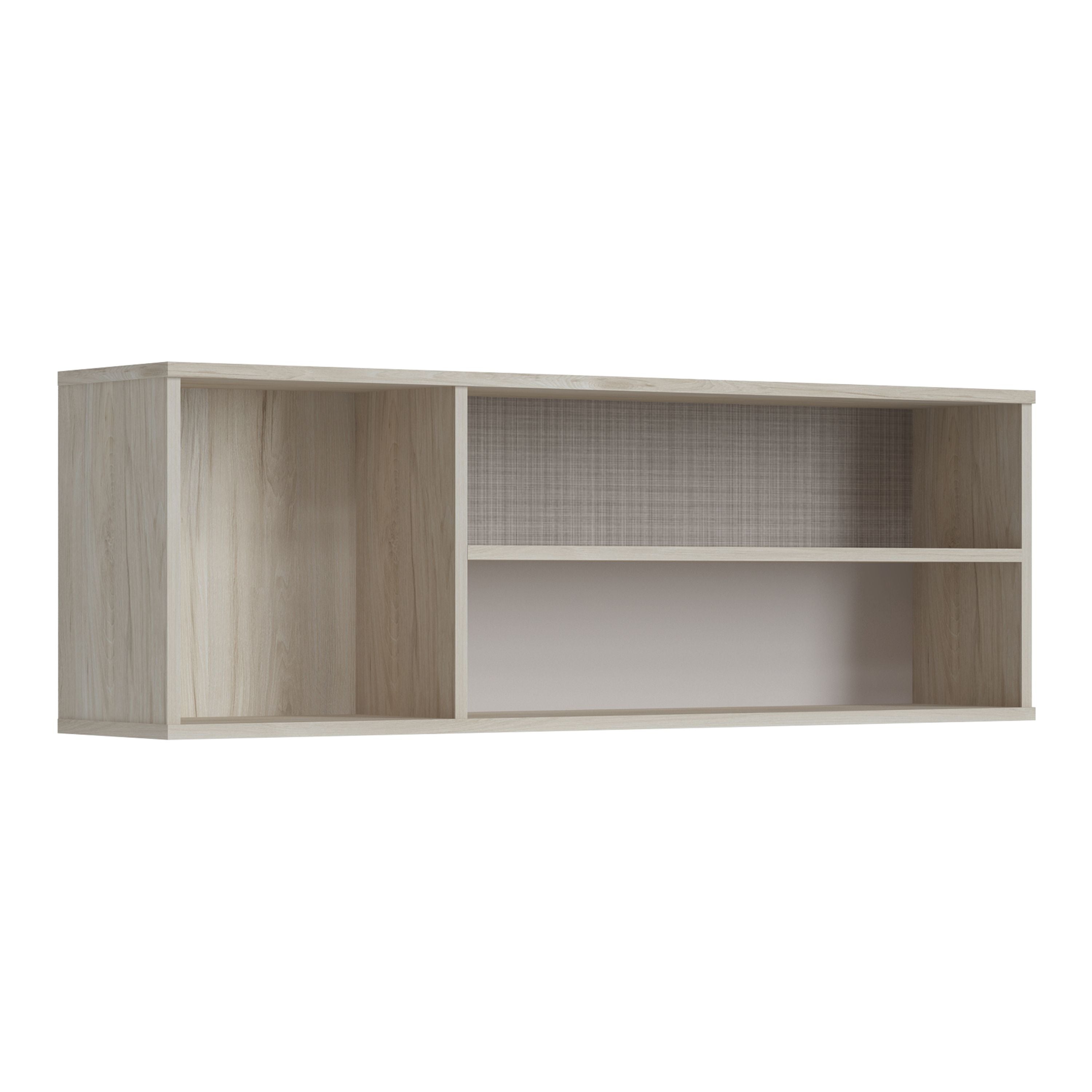 Denim Wall Shelf in Light Walnut, Grey Fabric Effect & Cashmere
Are you wondering how to arrange a small room? Is the child's or teenager's room small or shared between two siblings? Make use of every available space by using hanging furniture. A large wall shelf from the Denim collection is an extremely practical element of arrangement, thanks to which you will create a functional interior with a carefully thought out composition.

The Denim wall shelf, divided into three independent spaces, is a piece of furniture with an exceptionally wide range of applications. The impressive wall shelf is made of laminated chipboard, ensuring resistance to minor damage. Hanging furniture in a light shade of wood (Rockford Walnut Light) looks great on the walls, providing an impression of lightness and spaciousness. It's bright colours and simple shape prevent even a small room from feeling overwhelmed. Several wall shelves can be used to create a unique composition.
The Denim wall shelf, with three separate spaces, will work well in a youth room, where books and magazines are an essential element of the equipment (the shelf's load capacity should be adapted to the manufacturer's recommendations). The same it can be used in a child's room who loves to display small toys: springboards, plush cuddly toys and dolls. The Denim series shelf is a great place to display diplomas and cups.
Size in mm: W 1200 x H 400 x D 250 mm
Laminated board (resistant to moisture and damage)
Modern Details And Timeless Simplicity
Easy Self Assembly
Matching pieces available
Assembled Weight (kg): 18.14
Number of boxes: 1
Shipping volume (m3): 0.047316
EAN Code: 5900355153947
SKU: 4477359FTG
Box 1:
EAN: 6010000023314
Dimensions (CM): 38.6 L x 136.2 W x 9 H cm
Weight (kg): 18.14
Volume (m3): 0.047316
---
Eligible for 14 Days Return
We Offer Complimentary 3-5 Days Delivery On All Products
Denim Wall Shelf in Light Walnut, Grey Fabric Effect & Cashmere